When she returned, she had the funds to expand the house. This was the result...
And tho more upgrades were planned for the future, the new layout allowed for a more updated and spacious feel.
*********
It had been a while since Eden had been home and she did not realize how much she had missed it until she returned. First and foremost, she powered up her servo Zola and greeted her warmly. It was time to get settled in.
When everything was unpacked, Eden was exhausted, but she spent a minute before bed talking to Ben. Well, not actually to Ben, but to his painting. It was the closest thing she had to her father as his ashes had been sent to the cemetary when she left for college although she could feel his presence in the house watching over her and she was thankful for that.
The next morning Eden invited her hubby-to-be over for his first visit to what would be the home that they were planning to spend the rest of thier lives together in.
The week went along failry normally, Eden got a job in the Education field and was really enjoying being a teacher.
She spent most nights with Joel, he claimed he did not mind the commute from umiversity, so the two spent as much time together as possible planning for their wedding.
She even got a new hair do, a slight change, but it was the first time she had changed her look in years.
*****
So it seemed that everything was just going to go smoothly up to the wedding, that is until...
Eden had not been feeling well for a while, chalking it up to a cold, she thought nothing of it. But when she came home from work one afternoon she knew that this couldn't be the flu.
When she was confirmed preganant, she and Zola made the call to Joel to break the news.
Thrilled at the unexpected turn of events, Joel rushed over to Eden's side.
*****
Eden tried to relax through her pregnancy and actually found the down time very effective for skilling.
She was lucky to have the help and support of Zola.
And Joel made sure he was around as much as possible.
When the time came, the couple was blessed with a beautiful blonde haired daughter they named Courtney (also the first generation 4 baby in Rose Island!).
Soon, Joel would be back from college and Eden had Zola as an extra pair of hands until then. But she was glad for a few days "alone" with her daughter. For once she realized how hard it had been, and at the same time how wonderful for Ben when he raised her all on his own.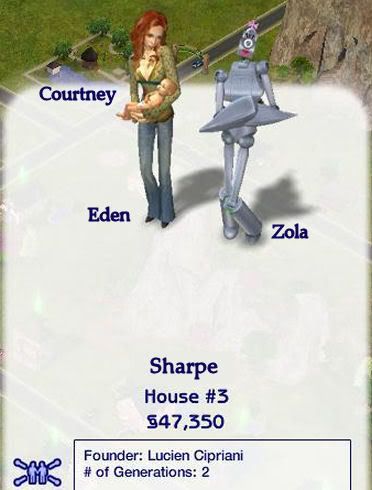 Accomplishments this round:
Eden gets a job in education, Courtney is born (first gen 4 baby).

Ongoing Point Total: 116